Trail Rider Challenge Obstacles
The following lists should help you to know what to expect and how to prepare for a Trail Rider Challenge. Trail Rider Challenge obstacles are listed below.
TYPICAL OBSTACLES:  Most obstacles will come from this list.   Show management has the right to be creative as long has safety considerations are kept.
GATE – Open, pass through and close
CROSSING OBSTACLE – logs, bridge, tetter- totter, water, ditch, or tarp
DRAGGING OBSTACLE – log, tire, pallet
ROPE A STATIONARY STEER – rope provided at obstacle
LOAD INTO A TRAILER
REMOVE, CARRY AND REPLACE AN ITEM
BACK – thru &/or around obstacles or up/down hill
SIDEPASS – over a single pole or poles
JUMP – lope or trot over a jump
MAILBOX
THROUGH – cowboy curtains, tunnels
NATURAL TERRAIN – brush, ravines, hills
MOUNTING – from fence, block, log, or windmill
MAZE or tight fit
PICKING UP HORSES FEET
PONY A HORSE (Extreme division only)
HORSEMANSHIP ELEMENTS – circles, straight lines, lead changes, pivots, rollbacks, stops (see below)
WATER – crossing, sprinkler, carry, creek
DEBRIS
The Rider should Ride with Purpose.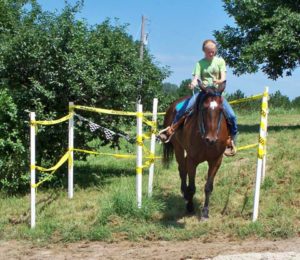 HORSEMANSHIP ELEMENTS: These items can be an obstacle of their own or incorporated into other obstacles.
Pivots on hindquarters, forehand, or in combination.
Circles, straight lines, serpentines or other patterns in the line of travel.
Lead changes: may be simple or flying, in a designated location.
Gaits: walk, trot, extended trot, lope both directions
Stops
Backing: straight, in a circle  or in a pattern
COURSE DESIGN:
Natural obstacles are encouraged.
At least 10 obstacles or maneuvers are required for each course.
Keep in mind different sizes of horses.
Most courses should take 3 – 6 minutes to complete.
Obstacles should test and display a good trail horse.
Obstacles should not be overly difficult or impossible.
Safety is number one over thrills.