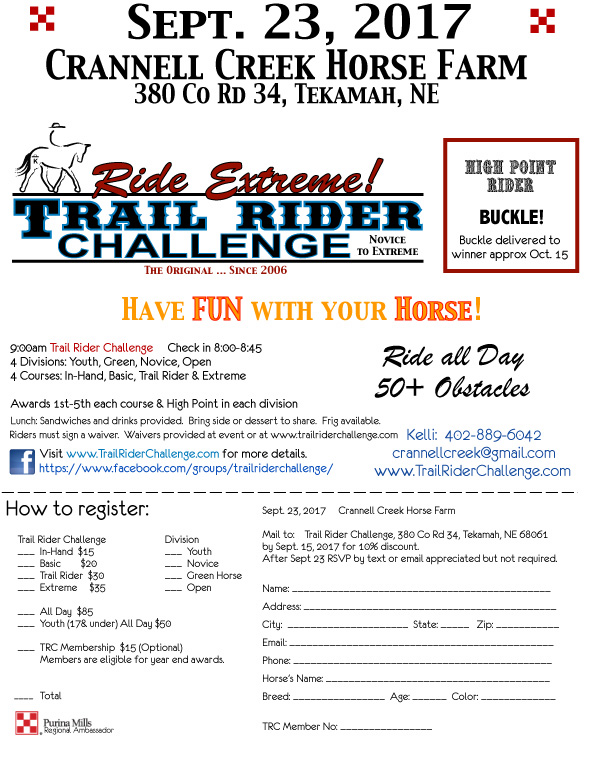 September 23, 2017
The BIG FALL Trail Rider Challenge
at Crannell Creek Horse Farm
Tekamah, NE
Registration: 8:00-8:45
Walk-thru: 9:00, Start: 9:30am
Divisions: Youth, Novice, Open, Green Horse
Courses: In-Hand, Basic, Trail Rider, Extreme
Awards: Ribbons 1st-5th each division, High Point in each Division
Trophy Buckle for HIGH POINT HORSE & RIDER OF THE DAY!
Buckled delivered about October 15.
Contact: Kelli Paulson Crist 402-889-6042
In-Hand $15, Basic $20, Trail Rider $30, Extreme $35
Ride all day: $85 per horse and rider
Youth all day: $50
10% discount for all entries postmarked by Sept. 15.
TO ENTER & PAY ONLINE
Kelli will then email you an invoice.
TO ENTER BY MAIL
Print the PDF and send to: TRC, 380 Co Rd 34, Tekamah, NE 68061
TO ENTER AT THE EVENT
Entries at the event are welcome!  We accept cash, checks and debit cards.